Expedition pileups and Club Log Leaderboards
An open letter from Michael, G7VJR (creator of Club Log)
In recent years, Club Log charts have become a new option for expeditions above a certain size to engage with the Dxing community while they're on the air. As well as the essentials for log search and some statistical insights, Club Log is the home of the expedition leaderboards feature, which allows DXers to be ranked by the slots they have worked and adds an element of competition.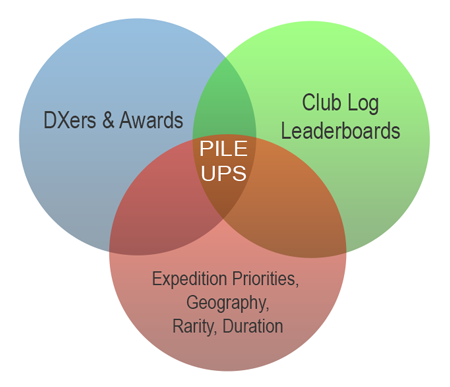 As a Dxer myself, I have of course seen the amplifying effect the leaderboards have on expedition activity and band/mode slot chasing. As I enjoy expeditioning too, I've experienced the lift in the size of pileups when using the leaderboards from the hot end. There's no doubt it changes the game.
Some criticisms have been made which I want to discuss openly in this letter. These are my personal thoughts and I hope this debate can carry on more widely, too.
Slots and uniques – the balancing act
An objection I have heard said is that the leaderboards are encouraging "big guns" to dominate Dxpedition pileups. Leaderboards promote chasing band/mode slots, and expeditions want to make a lot of QSOs. Working the same big signals on many slots is a possibility.
There are total of 26 slots for the main 9 HF bands, so in theory an expedition can accumulate 100,000 QSOs while actually working fewer than 4000 hams. I hope I speak for most of us if I say that this would be terrible news for the hobby and the future of Dxing, if it ever actually happened. At the risk of stating the obvious, the smaller the team, the rarer the entity and the shorter the activation, the less appropriate it is for the expedition to go for slot chasing. The balance has to be just right.
Expedition teams are tenacious about being on the right band at the right time. It is they that determine when they would like to start exploring new band/modes. We all know that the leaderboard will put pressure on Dxers and tempt dxpeditions to activate and work more slots, respectively. I do not think that the leaderboard is the only factor though: only if the peak bands are abandoned is there a problem. Expeditions should be given full credit when they take charge of the game.
Let's make an example of T32C: there was an operator on every band that was open around the clock (sometimes two per band) so while the exotic slots on edge bands were being activated, a key slot such as 17M SSB was always ready and waiting for a small station to make his or her first ever QSO.
In fact, T32C worked more unique calls than any other expedition (as well as the biggest total number of QSOs). To my knowledge, no-one felt excluded by the use of the leaderboards since there was always an opportunity – getting easier every day – to come and work T32C on a peak band. Don't forget, the initial pile ups leave behind evidence of the propagation, too, which is enormously helpful for smaller stations to target their efforts.
Population centres and 'walls'
The second most common objection I have heard is that when a rare expedition is geographically close to a major population centre, it may be easier for the expedition to work more local hams (and activate more slots) than work DX hams on marginal paths and marginal bands. The objection is that the leaderboards increase the size of the 'wall' between regions.
I'm sure this effect exists. It is certainly there whether Club Log is involved or not. Propagation for DX paths exists in short windows, and of course at these times there will be demand from anywhere that the band is open – including loud locals. Expeditions can choose again now: work the loudest stations or work the DX?
There is no reason to believe that a highly skilled expedition team will ignore DX openings. It shouldn't be surprising that the expedition will also activate other band/mode slots – they deserve their pile ups and there is no down side to doing so, if they can service them at the same time as the peak bands.
Operating standards
The pressure on expeditions is intense and the enjoyment on both sides of the QSO is badly affected by deliberate QRM, caused by frustration and impatience, the DX cluster and countless other non-radio influences. Exemplary dxpeditions and courteous Dxers with capable stations are being mixed into an environment fraught with malicious QRM that can spin out of control. They are not the ones to blame.
I realise that slot chasing may be contributing to bigger pile ups. Does this mean we should give up, repeal innovations like Club Log leaderboards, or remove complications like band/mode slots in favour of only band slots?
I don't feel it is right to remove or dilute any part of the Club Log leaderboards, nor try to rule out advanced awards that require many slots to be worked, since that would be at the expense of those who deserve it the least.
What to do?
Firstly, let's start measuring the reach of expeditions. Club Log now provides a leaderboard of expeditions, ranked firstly by unique QSOs, and secondly by total QSOs. You can see this leaderboard here:
http://www.clublog.org/uniques.php
This page also answers the time old question of how many Dxers are chasing expeditions, using the Club Log database to arrive at an estimate.
The next step is to encourage unique callsigns more. In short, there will be a new award for expeditions that work uniques and prioritise QSOs with all stations, not only slot chasers. Please look out for news of this award. Club Log is sponsoring part of the prize.
Finally, the leaderboards will become optional (at the discretion of the expedition managers). Other features such as propagation feedback, statistics and OQRS can still be used while leaving the leaderboard page out. I see no reason to reserve this choice for myself – let the expedition choose!
Thank you to everyone who has taken the trouble to write to me with detailed thoughts.
73,
Michael G7VJR