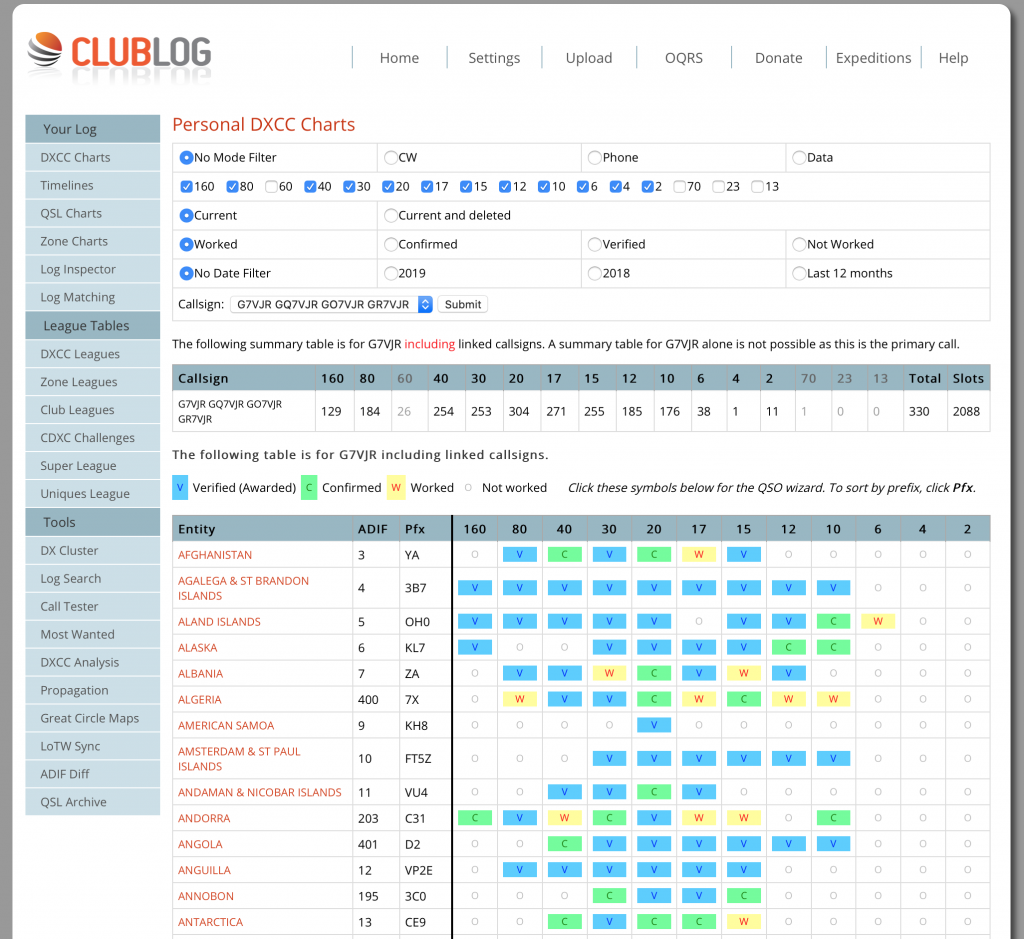 Club Log is a web-based application that analyses log files from radio amateurs all over the world. Using the logs, Club Log offers you a wide range of reports for your own benefit, and identifies large scale trends from the sum of all activity in the database. There are hundreds of millions of QSOs in the database.
In 2012 the Yasme Foundation made a special grant for equipment costs to Club Log. In November 2014, Club Log received the prestigious Al Slater G3FXB Memorial Award from FOC. In May 2015, Michael Wells G7VJR was inducted into the CQ DX Hall Of Fame. In 2019, grants totalling £8,500 were made to enable Club Log to purchase equipment, backed by NCDXF, the Yasme Foundation, CDXC and INDEXA.
Wayne Mills, N7NG commented:
"Club Log is an online log, but it's much more. It's a new development in DXing sure to bring challenge and excitement to many DXers, young and old. As a centralized source of many DXing tools and resources, its use will grow significantly. We believe our support is well justified."

73, Wayne, N7NG
Jackson Hole
If you participate in Club Log by uploading your log you will receive:
Personal DXCC reports and league tables
Detailed analysis of your log, using researched DXCC information
ADIF comparison and fault-finding tools
Zone charts for your log, again based on detailed research
A personal timeline of your activity (DXCCs per year, band and mode info)
Your own log search tool, eg. to link from your web page or QRZ profile
A filtered DX Cluster which only tells you about DX you still 'need'
The Club Log most wanted report: every log is part of the trend data
Access to propagation and activity predictions, using everyone's logs and VOACAP
QSL suggestions to help you send out just the cards you need
OQRS (Online QSL Requests) to make direct and bureau QSLing faster and easier
Live Streams to make it engaging and interactive to work DXpeditions
Satellite-optimised upload gateways for remote islands and rare DXpeditions
CDXC Challenges, Marathons and a "Super League"
One of the driving principles of Club Log is to store as many QSOs as possible, as this makes the reports and statistics more meaningful and representative. Everything in Club Log depends upon analysing real QSOs, and for this reason I am very grateful to everyone who participates.