Last October I reached 1000 on the DXCC Challenge using only LoTW confirmations! This splendid plaque arrived today from Newington.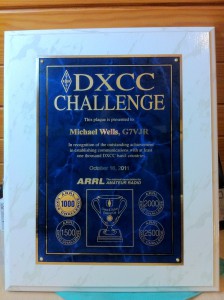 The DXCC Challenge Award is given for working and confirming at least 1,000 DXCC band-Entities on any Amateur bands, 160 through 6 meters (except 60 meters). Plaques can be endorsed in increments of 500. entities for each band are totaled to give the Challenge standing. Deleted entities do not count for this award. All contacts must be made after November 15, 1945. QSOs for the 160, 80, 40, 30, 20, 17, 15, 12, 10 and 6 meter bands qualify for this award.
I think that achieving DXCC Challenge with traditional QSL cards would be a very long and expensive process. Next stop 1500 – that might take a while unless I start entering some more contests, but it's great to always have a next step in DXing.