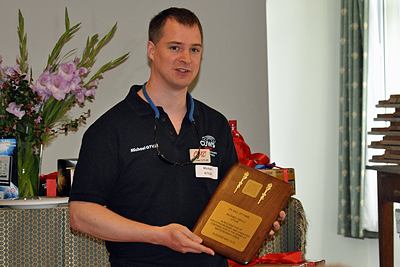 On Friday 15 May 2015 at the DX Dinner at Dayton, I was inducted into the CQ DX Hall Of Fame.
Thank you for the messages and for the appreciation! I hadn't foreseen this and it is absolutely wonderful news to be recognised at such a level.
I was unable to attend Dayton but John Gould, President of the RSGB, was there to accept the award on my behalf. These are the words I asked John to read out on my behalf:
"When I began to pen the first few lines of code for Club Log in 2007, I was delighted just to be writing software again. My professional life had moved into the management of a company, but I felt I could spare the "occasional evening" for personal projects. I had no idea that Club Log would become what it is today – nor how great an underestimate I'd made!"

"Happily, it has been a remarkable journey. Club Log is everything I could wish for in a hobby: it has rewarded me with a richer understanding of amateur radio, a deeper admiration for DXing, a better knowledge of software and databases, and countless new friendships around the world. I have been helped at every stage by wonderful people, many of whom are here tonight. I humbly acknowledge all those who have contributed to Club Log's success."

"Thank you for my induction into the CQ DX Hall of Fame. I suspect I am the most junior member. I could never have predicted this honour would come to me, especially realising the rarified company that this puts me in. I simply could not wish for more. Thank you."
The beautiful plaque with its inscription was presented to me at the CDXC Annual Summer Social. Photo Credit: Nigel G3TXF.
73,
Michael G7VJR